News Desk, Amar Ujala, Jaipur
Published by: Prashant Kumar Jha
Updated Mon, 22 Nov 2021 12:18 PM IST
Summary
After a long struggle in Rajasthan, the cabinet expansion was agreed upon, but it seems to be erupting again. After the cabinet reorganization on Sunday, now the screw is stuck in the division of departments. In such a situation, the decision of division of departments will be taken from Delhi.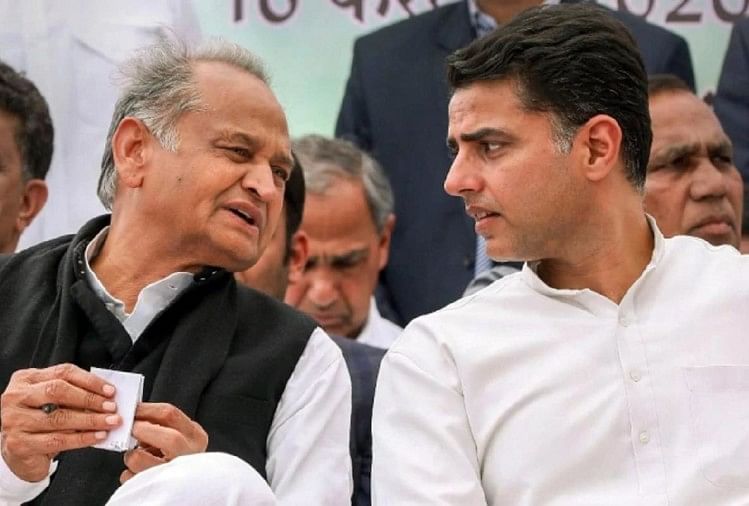 Ashok Gehlot and Sachin Pilot (file photo)
– Photo: PTI
Expansion
After the long-standing political turmoil in the Rajasthan Congress, the cabinet was expanded on Sunday, but now the dispute over the division of departments is getting deeper. Some ministers are not happy with the division of portfolios. In such a situation, the division of ministries will now be done from Delhi. Actually, after the cabinet change, it was believed that this internal strife would settle down, but it does not seem to be happening. Before taking oath to the ministers on Sunday, Sachin Pilot had also made it clear that there is no factionalism in the Rajasthan Congress, we all together will win the 2023 elections, but only after the oath of the minister's post, the tussle over the division of the portfolios starts. Gaya.
MLA Brijendra Singh Ola, close to Sachin Pilot, took oath as a minister of state, but shortly after he filed a complaint that he is a four-time MLA, yet he was made a minister of state, while two-time MLAs were also made Cabinet minister has been made.
High command will decide on partition

State in-charge Ajay Maken will meet Congress General Secretary KC Venugopal in Delhi on Monday and discuss the distribution of departments. Then Ashok Gehlot will be discussed on this. According to the information received, Gehlot is in favor that the ministers who had earlier, should be given the same, while the new ministers should be given vacant ministries, but the legislators of the pilot group do not agree on this.